Surgery
About US
History
In 1939, surgical education for veterinary school was introduced in Chulalongkorn University as the subject for the veterinary division. In 1979, the department of Veterinary Surgery, Faculty of Veterinary Science, Chulalongkorn University, was established. The department aims to contribute basic knowledge, clinical practice, and research in veterinary surgery, diagnostic imaging, anesthesiology, ophthalmology, and dentistry. Moreover, the department provides postgraduate programs (Diploma, Higher Diploma and residency program, M.Sc., Ph.D., and postdoctoral.) in Veterinary Surgery.
Staff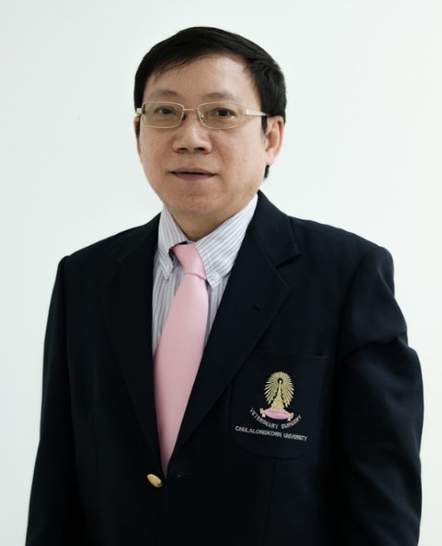 Courses
Department of Surgery
Master of Science Program Department of Veterinary Surgery
It is a course that aims to produce veterinarians with academic knowledge. and experience in surgery, radiology,
anesthesiology Ophthalmology and dentistry along with virtue and to produce research or create new knowledge
in surgery, radiology Anesthesiology, Ophthalmology and Dentistry.
Course Structure
Total number of credits throughout the course 36 credits
Compulsory courses 12 credits
Elective courses 6 credits
Thesis 18 credits
Study period 2 Years
Application period
Accepting applications during February - March of every year (Start studying in the beginning of August)
Qualifications of eligible candidates for admission
Graduated with a Bachelor of Veterinary Medicine
Completed a Graduate Diploma in Clinical Veterinary Science Department of Veterinary Surgery
Orthopedic surgery research
Orthopedic surgery research
Soft tissue surgery research
Soft tissue surgery research
Oral and maxillofacial surgery research
Oral and maxillofacial surgery research
Large animal surgery research
Large animal surgery research
Animal Cadaver Donation Center
Animal Cadaver Donation Center
CU Innovation Center for Veterinary Clinical Training: CU IC-VCT
CU Innovation Center for Veterinary Clinical Training: CU IC-VCT
News and Activities
Location
Department of Surgery 8 Floor, Faculty of Veterinary Science
Contact Staff
Social Network